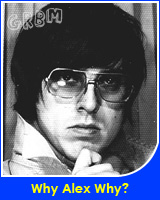 Représente:
Les talons hauts de ta voisine et la Petite-Italie
——————————————————————————————-
Holy Ghost "Hold on" 12″ (DFA)
Sans contredit la meilleure pièce de l'année. Je l'ai tellement écouté que je me suis fait penser aux filles de mon primaire qui faisaient des cassettes avec la même chanson qui se répétait.
—————————————-

Black Lips "Good Bad Not Evil" (Vice)
Faute de moonshine au Québec (quoi qu'on a la bagosse), j'écoute les Black Lips en buvant de la grappa. Ça donne presque le même effet.
—————————————-

Jay Reatard "Blood Vision" (In The Red)
De la pure pop-violence, parfait pour se faire des bleus entre amis.
—————————————-

V.A. "After Dark" (Italians Do It Better)
Compilation réunissant les artistes de Italians Do It Better, la nouvelle étiquette de Mike Simonetti, le grand manitou de Troubleman Unlimited. Super slick, à écouter en buvant des martinis dans une combinaison spatiale designé par Prada.
—————————————-

We Are Wolves "Total Magique" (Dare to Care)
De la musique de char pour la jeunesse dans le vent.
—————————————–

LCD Soundsystem "Sound of Silver" (DFA)
James Murphy est un génie. All my friends est définitivement ma chanson maladie de l'année et en plus elle donne envie de courir au ralenti dans un film qui mettrait en vedette de jeunes adolescents rebelles.
—————————————-

V.A. "Best of Superradio Parts.1-2-3-4″ (Radius)
Les hits du label de disco italien "Superradio" dépoussiérés. Si vous n'avez jamais considéré une camaro rouge comme un véhicule de choix, cette compilation vous fera changer d'idée.
—————————————-

Pylon "Gyrate Plus" (DFA)
Un de mes albums préférés de tous les temps enfin remasterisé! À se procurer absolument, c'mon, ils ont ont pavé la voie aux Pixies, Sonic Youth et R.E.M. (!) de ce monde. Cet album tue, tout simplement.
—————————————-

Chromatics "Nite Drive" (Italians Do It Better)
Giorgio Moroder rencontre Goblins à Miami en 1986. Ils sortent dans les clubs en décapotable et font des traits de cocaïne sur le tableau de bord.
—————————————-

Good Shoes "Think Before You Speak" (Brille)
De la pop d'adolescent surexcité: on fait du pogo dancing dans le sous-sol de nos parents, on se sauve la nuit par la fenêtre et on va frencher dans le parc.