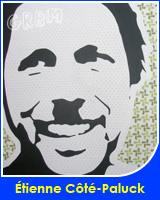 (Toile de Josianne Poirier)
DJ ECP
Préférences : le gros beat sale, qu'il soit de Rio, de Luanda, de Tokyo, de Kingston ou de Montréal.
www.ledevoir.com
www.shuffleradio.net
www.radio-canada.ca/uneheuresurterre
www.festivalmizikjakmel.com
www.materre.ca (à venir)
——————————————————————————————-
Tounes 2007
Incapable de m'en résoudre à plus petit, j'ai choisi de faire un choix parmi les 70 tounes (et remix) de l'année 2007. M.I.A. domine avec six présences en plus de la première position. Un mix très approximatif accompagne ce top, de la dernière à la première position. L'année 2007 a été une année de consolidation pour le monde de la musique. Peu de nouvelles sonorités sont apparues en 2007 alors que des genres déjà établis mais peu connus comme le Baltimore breaks, le baile funk (aka funk carioca), le ragga et le kuduro en ont profité pour établir leur marque. Une chorégraphie spécifique à une chanson est aussi la voix (sic) d'un succès assuré.
1- Boyz – M.I.A.
1a. Rene Goulet's Backside Bump
1b. Diplo Remix feat. Battles & Akon
1c. The Twelves Remix
2- Doi Festival (Ghislain Poirier Remix) – Bunji Garlin & JMC Triveni
3- Travailler (Orgasmic Remix) – TTC
4- Été Hit ( prod. Figure 8 ) – Omnikrom
5- Paper Planes – M.I.A.
5a. Sonido Martines Guacharaca Remix
5b. Wido Blend feat. Rayvon
5c. vs Jigglin' – Ying Yang Twins
6- Marina Gasolina [Buraka Som Sistema Dub Remix] – Bonde Do Rolê
6a. Original mix
6b. Pop Rawkus Club Blend
6c. Peaches Remix
7- Come Around – Collie Buddz
7a. Benja Styles Remix
8- Crank Dat – Soulja Boy
8a. Juke Dat DJ Ayres remix
8b. DJ Soap Ghetto Re-fix
8c. Squincy Jones Meow mix
8d. vs Push It – Salt and Pepa (Johnatron Edit)
8e. Cousin Cole Remix
9- Lip Gloss – Lil Mama
9a. Kid Fresh & Haterboy ReFix
9b. Bomarr Remix
10- Shake It to the Ground ft Rye Rye – Blaqstarr
11- This Is Why I'm Hot Remix Feat. Junior Reid and Cham – Mims
12- On Everything feat Twista & David Banner – Radioclit
13- Bird Flu – M.I.A. a. Guns Up Buraka Remix
14- Raula Pai Gaya – Daler Mehndi
15- Hot Chico (Jonas Arbjö RDS Bump)
16- Bamboo Banger – M.I.A.
17- Quand je claque des doigts – TTC
18- Heart it Races (DJ Rupture's Ital Hymn Mix Featuring Mr Lee.G) – Architecture in Helsinki
19- Calabria 2007 – Enur Feat. Natasha
19a. DJ Big Al Remix
19b. The Anthem ft. Lil Jon – Pitbull
19c. Killa Shake D.R. – Pitbull
20- (Pas la peine d'appeler je ne réponds pas au) Téléphone – TTC
20a. Ghislain Poirier Remix
21- Dat Beat – Uptown & Hot Boi Johnny
22- Stronger (Diplo Work Is Never Over) – Kanye West
23- Hyphy comme Jerry – Drackq & Maître J.
24- Throw Some D's (Feat. Polow Da Don) (DJ Pumpkin Patch « Dancin' » remix) – Rich Boi
25- Jusqu'en haut feat. Omnikrom – Ghislain Poirier
26- Siren – Dizzee Rascal
26a. Paul Devro Edit
27- Blazin' feat. Face-T – Ghislain Poirier
27a. The Bug Remix
27b. Sarkey Remix
27c. DJ Flack Remix
27d. DJ C's Blazin' Hurts
28- Go Ballistic feat. Zulu – Ghislain Poirier
29- New York I Love You – LCD Soundsystem
30- Chega de roubo – Smal
31- Poperom (Beat Fat remix) – Puto Prata
32- World Town – M.I.A.
33- Enciende – Fulanito
34- Keep Up – Durrty Goodz
35- Date Rape – Mapei
36- Melody Day – Caribou
37- Shake My Ass – Top Billin
38- It's Me Bitches – Swizz Beatz
39- Desert Storm – Tinchy Stryder
40- Open The Door – Richie Spice
41- Geremia – Bonde Do Rolê
42- Pussyhole – Dizzee Rascal
43- So Fresh (remix feat. Omnikrom et Jeune Chilly Chill) – Le Chum
44- Walk it Out (PD Kuduro mix) – DJ Unk
45- Ritmo Caliente (prod by Rodjhay) – FNK
46- Era uma vez – DJ Kula
47- Pick-Me-Up Uppercut – Pop Levi
48- Let There Be Light (DJ Funk's Bounce Dat Ass Remix) – Justice
49- Snap Crackle Pop (Ghetto Club Rmx) – DJ Illo
50- Axiom (prod. Fireworkz) – Durrty Goodz
51- My Neck, My Back (Remix) – Cabide DJ
52- Villa Diamante – Mariana Baraj vs Unknown Whithelabel track
53- Da Ting Deh (Cheerful Riddim) – Mr Vegas
54- Salt, Pepper, Ketchup & Hot Sauce – Dwizz
55- You'll Find A Way (Switch & Graem Sinden remix) – Santogold
56- You Are Never Alone – Socalled
57- The Pelican – Menomena
58- Snap Crackle Pop (Ghetto Club Rmx) – DJ Illo
59- Heer – Jagz Klimax
60- À cause des garçons (Drixxxé Remix) – Yelle
61- Brume sous les streetlights – Radio Radio
62- Robarte Un Beso ft. Don Omar – Ivy Queen
63- Xiap Xiao – Onira
64- Tu connais le chanson – Bitchee Bitchee Ya Ya Ya
65- Me Mobile (Duckbeats Ringtone Riddim) – Jesse Rose and Sinden
66- Dirtywhirl – TV On The Radio
67- Crambodia (U-Turn remix 2) – Plastic Little
68- Heavy Hittaz – Curtis Vodka and Al Ripken
69- Sharp à l'os Thème – Figure 8
70- If You Fail (Sebastian Remix) – Fields
——————————————————————————————-
Nouveaux remix
1- Roll With Me, Rock With Me – Second Line mix
2- Stay Fly (Cutso Special Blend) – Three 6 Mafia
3- Young Folks (Pussy blend by Diplo) – Peter Bjorn and John
4- We are your friends (Scottie B, King Tutt, and Samir Remix) – Justice vs Simian Mobile Disco
5- Killing in the Name (Sebastian remix) – Rage Against The Machine
6- Bam Bam (Puro Movimiento vs Princess Gold) – Luisao
——————————————————————————————
Albums
L'album de TTC possède d'excellentes chansons mais la majorité d'entre elles sont plutôt à oublier. Je l'ai tout de même inclus dans mon top 15 des albums ce qui illustre très bien le peu d'albums renversants en 2007.

—————————————-

2- Bonde Do Rolê – With Lasers [Mad Decent/Domino]
—————————————-
3- Ghislain Poirier – No Ground Under [Ninja Tune]
ex aequo Bounce le Remix vol. 2 [Business Ghis]
—————————————-

4- Justice – Croix [Vice/Warner]
—————————————-

5- Lily Allen – Alright, Still [EMI]
—————————————-

—————————————-

7- Socalled – Ghettoblaster [JDub]
—————————————-

8- Omnikrom – Trop Banane ! [Saboteur]
—————————————-

9- Animal Collective – Strawberry Jam [Domino]
—————————————-

10- Mark Ronson – Version [Red Ink]
—————————————-

11- Sixtoo – Jackals And Vipers In Envy Of Man [Ninja Tune]
—————————————-

12- Burial – Untrue [Hyperdub]
—————————————-
—————————————-

14- National Parcs – Timbervision [Audiogram]
—————————————-

15- Dizzee Rascal – Maths + English [XL]
——————————————————————————————-
Blogues de mp3 (intl)
1- Discobelle (http://www.discobelle.net)
2- Fat Planet (http://www.fatplanet.com.au/blog)
3- Mad Decent (http://www.maddecent.com/blog)
4- Masala (http://masalacism.blogspot.com)
5- Palms Out Sounds (http://palmsout.blogspot.com)
6- Mudd Up (http://www.negrophonic.com)
7- Analog Giant (http://analoggiant.blogspot.com)
8- Wayne and Wax (http://wayneandwax.com)
Blogues de mp3 (Montréal)
1- Masala (http://masalacism.blogspot.com)
2- Pagette Music (http://pagettemusic.wordpress.com)
3- Lucidik (http://www.lucidik.com)
4- La Toune Quasi-Hebdomadaire (http://www.dequoi.com/tqh)
5- La New Shit (http://lanewshit.blogspot.com)